The new X95 'Superfly' Princess
Breaking down boundaries and shattering eXpectations
IntoXicating, eXtreme, eXciting… she is unlike any other yachting experience to date. The new X95 'Superfly' is a true Princess: she is always moving forward, breaking down boundaries and shattering eXpectations.
An Entirely New Class of Yacht
Experience the R/EVOLUTION
Provocative, cutting edge, exhilarating - 35ft in length, fully carbon fibre, powered with V8 engines and with an impressive top speed of 50 knots - announcing the highly anticipated, all-new R Class.
Princess F45: New-Shaped Flybridge Bestseller
The exciting new Princess F45 has been designed with ondeck living in mind which is apparent from the moment you step on board.
The eagerly anticipated all-new Princess F45 showcases a further development of the latest Flybridge design, evolved from the Princess F55 and F62, with an emphasis on strong, continuous feature lines, with a dynamic edge, underlining the confident character of the boat and projecting the Flybridge range into a new era.
New yachts prompt delivery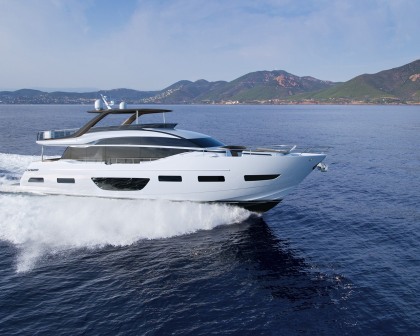 stock
5 273 670 € (ex VAT)
United Kingdom, Plymouth
26.2 m
2 x MAN V12-1900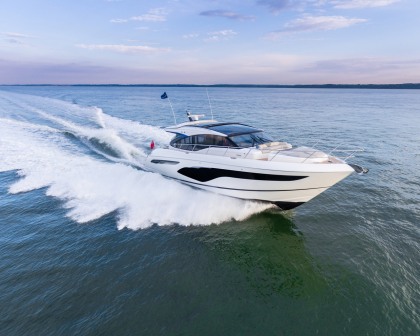 stock
1 596 500 € (ex VAT)
United Kingdom, Plymouth
19.17 m
2 x VOLVO D13-900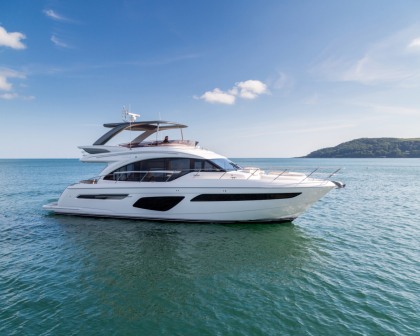 stock
1 927 600 € (ex VAT)
United Kingdom, Plymouth
19.34 m
2 x Volvo D13-900
Princess Craft
Range M Class
Princess M Class superyachts represent the ultimate luxury yachting by Princess Yachts. Throughout the years, Princess Yachts have acquired strong market positions in the superyacht segment. Every yacht conceals Princess exquisite firm style providing the owners with bespoke customization possibilities. Ultra-luxury finishes, high-ceilinged living space, spacious garage for tender and incredible amount of water toys – every Princess M class superyacht is a unique handcrafted «luxury villa» on water with all necessary amenities for your perfect holiday.
Range X Class
Experience an entirely new concept in yacht design – Super Flybridge yachts that completely rethink yacht architecture to set a new benchmark for luxury living space. Our new X Class is the perfect craft for those who wish to spend extended time aboard and voyage further afield.
Range Y Class
The level of luxury, comfort and functionality Y class yachts are like M class superyachts. Motor yachts of this class benefit from extensive beautifully furnished flybridge, leisure zones and perfectly fitted cabins. Highly customized Y class Princess yachts are made for enjoying the sea with friends and family.
Range S Class
Princess sportbridge yachts are dedicated for progressive clients, who tend to pass their time on water with incredible luxury at high speeds. Perfect balance of speed and maneuverability with luxury interior is in their true nature. In order to fully benefit from the S class yachts on board experience, the captain is essential.
Range F Class
Flybridge range is represented by luxury cruisers, perfect for cruising in the Mediterranean. Ergonomic layout is perfectly outlined with flybridge and perfect hand craft. Throughout the years, Princess flybridge yachts have been nominated as «Motor Yacht of the Year» by respected Motor Boat & Yachting and Motor Boats Monthly magazines.
Range V Class
These yachts are crafted for supreme speed and handling characteristics with luxury interiors and high-quality craftsmanship. Light and fast, they are so easy to drive, that some of the models can be handled only by the owner. V class sport yachts are available in wide configurations, like open main deck configuration or closed.
Range R Class
Recently launched new R class is a synonym of modern high-performance yachting. Princess Yachts are proud to have partnered with BAR Technologies and Pininfarina to bring a whole new breed of yacht to market with the very latest in advanced technology and naval architecture. The all-new R Class will feature the unique Princess Active Foil System (AFS) and deliver the fastest and most efficient Princess boating experience to date.
ABOUT US
OFFICIAL DISTRIBUTOR OF PRINCESS YACHTS
LOCATED IN THE HUB OF YACHTING
Princess Yachts Monaco is an official distributor of Princess Yachts. The company was established in 2010 with headquarters located in the heart of the yachting world – Port Hercule, Monaco. The concept of our showroom is clear – once you step inside you will feel like you are on board a yacht. Everything is made for the client. With the help of our experts, our client can easily choose a perfect yacht and every preferred option on board– all interior materials are showcased in our office.